Seminary Directors & Deans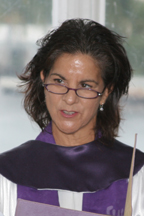 Rev. Dr. Lori Cardona is the founder and spiritual leader of LMC INTERFAITH MINISTRIES and is the Co-Founder and Dean of Sacred Journey Interfaith Seminary. She holds a BA in Psychology, an MA in Counseling and a Doctorate in Holistic Theology. She served for over 25 years as an executive administrator, counselor, consultant, and educator in the field of human services before getting her call to ministry.

Rev. Lori began her studies at The New Seminary of Interfaith Ministries in 1998, when she had a vision of what a truly inclusive, interfaith worship service would look like. She imagined a sacred and diverse worship experience for the spiritual seekers of her community, especially those who are more contemplative than dogmatic in their spiritual beliefs and practices. LMC Interfaith Ministries was born of that vision and is now recognized by the state of Florida as a non-profit charitable organization. peace, and higher consciousness.

---
---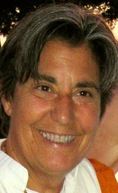 Rev. Dr. Grace Telesco (Rev. G) , Co-Founder and Dean of Sacred Journey Interfaith Seminary, is an ordained Interfaith Minister and graduate of the New Seminary for Interfaith Studies and has been initiated into the Sanyassi Order in the Hindu Tradition in the lineage of her Guru and given the Hindu name Swami Sharadananda. Rev. Dr. Grace Telesco hold a Ph.D. in Social Work from Fordham University and and Masters in Holistic Theology from the American Institute of Holistic Theology. Rev. G. is the Spiritual Director and Senior Clergy at the Darshan Center for Spiritual Evolution at a Healing Space in Wilton Manors and has served on the faculty at the International Seminary for Interfaith Studies . Rev. G. serves on the Boards of the World Alliance for Interfaith Clergy (AWAIC) and the Accreditation and Certification Community for Integrative Spiritual Service (ACCISS ) which is an accrediting organization for Interfaith and Interspiritual Educational Bodies. Rev. G is also a Professor of Sociology, Theology, Social Work and Criminal Justice.



---